Proper junctional wound packing is a critical bleeding control skill. The TrueClot® Inguinal Packing Trainer is a wearable training aid that simulates a junctional hemorrhage that cannot be treated with a tourniquet and teaches advanced wound packing skills. The trainer can be placed on a manikin or worn by an actor for a higher level of realism.
Training blood is pumped through the device to simulate hemorrhage and the large gunshot wound cavity can be packed with a full 12ft. x 3in. strip of simulated hemostatic dressing. Proper wound packing and compression will cause hemorrhaging to stop. When fitted on a manikin a junctional tourniquet may also be applied.
The trainer can be worn under or on top of clothing. For the highest level of realism use TrueClot Blood Simulant and Simulated Hemostatic Gauze for realistic blood clotting simulation. The trainer is for right side inguinal area fitment only.
Inguinal Packing Trainer features: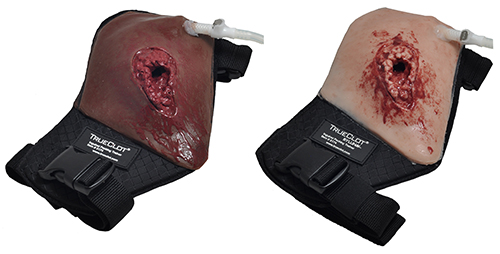 Durable ballistic nylon construction
Fully packable with 12 ft. strip of simulated hemostatic dressing
Easy to clean and air dry
Includes 1L of TrueClot Blood Simulant, 5 packs of gauze, and storage case
Kit Contains:
A 1 Liter squeeze bottle for training blood
Quick disconnect fittings
1L of TrueClot Blood Simulant Concentrate
5 packs of TrueClot Simulated Hemostatic Gauze (4′)
1 Plastic Storage Case
TrueClot Inguinal Packing Trainer (item# 5174)  Dark or Light flesh tones available
All TrueClot task trainers are latex-free.
To purchase TrueClot products, please click here.