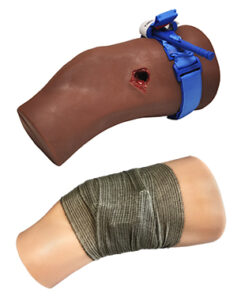 The TrueClot® Packing, Compression, and Tourniquet Task Trainer (PCT3) is a low cost, durable bleeding control training aid.
The simulated leg is ideal for introducing and reinforcing techniques including wound packing, compression bandages, and tourniquet application for hemorrhage control. It can be used as a dry trainer or moulaged with blood simulant for a realistic training experience.
Features:
Dry or wet wound packing training, cleans up with water
Fully wrap packed wounds with compression bandages
Gunshot wound and laceration injury models with boney landmark
Upper thigh area located 2" – 3" above wound models allows for proper tourniquet placement
Anatomical knee landmark illustrates improper tourniquet placement over a joint
Durable, stain resistant silicone construction
TrueClot Packing, Compression, and Tourniquet Task Trainer (item# 5172) Dark or Light flesh tones available.
All TrueClot task trainers are latex-free.
To purchase TrueClot® products, please click here.